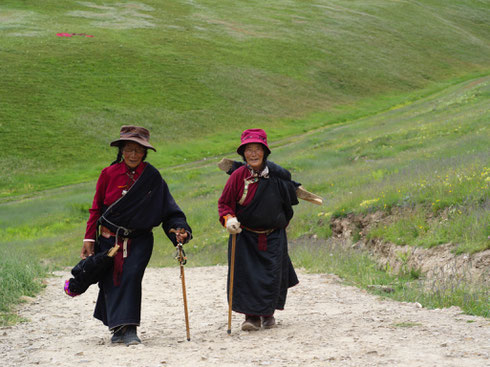 Once daily these "Weiber" from Eastern Tibet are doing their "soul hygiene". They walk every day  the holy kora around the buddhist monasteries in their village, a path that is approximately 3km long and leads them along 4 monasteries and some stupas. They need between 30 minutes and 2 hours - depending on how much they have to laugh, cry, pray, forgive or accept.
The kora stands in tibetian buddhism for the ritual of surrounding a holy place. In that part of our earth, the women take time for their daily kora. They do this with love and passion. Because they know who much it fosters the connection with their higher self and the divine source inside them. This is the basis for a fulfilling life. It is simple like that.
What do WE do for our SOUL hygiene?
I recognize that we have less joy in our life, that there is less and less appreciation in our job, between colleagues, with our customers, our colleagues, our suppliers and partners. One reason for this is that we do not take time for our soul, that we do not take care of our soul hygiene.
What do I mean with soul hygiene and how can I integrate it in my daily routine?
First: Embrace what is. Resistance enforces what I decline.
Second: Be thankful for everything. And with everything I mean EVERYTHING in your life. For the big and the small. For your apartment, the warm water in the bathroom, the subway that I can take to work , the friendly smile of the receptionist at the customer…. being thankful for everything.
Third: Feel your feelings. Accept and embrace all feelings. If you are sad, allow yourself to be sad and tat you cry. If you are happy, be full of joy. If you are angry, then shout.
Four: Withdraw verdicts and forgive. Forgive yourself that you allowed to get hurt. And forgive the person who hurt you. Just start with your soul hygiene. Are you interested in learning more?
I am very happy if you share my "soul hygiene" with your friends!